Brandneu in unserer Demo / In-Home-Audition arrangiert für Sie persönlich ,
worldwide first , absolute new for 2016 -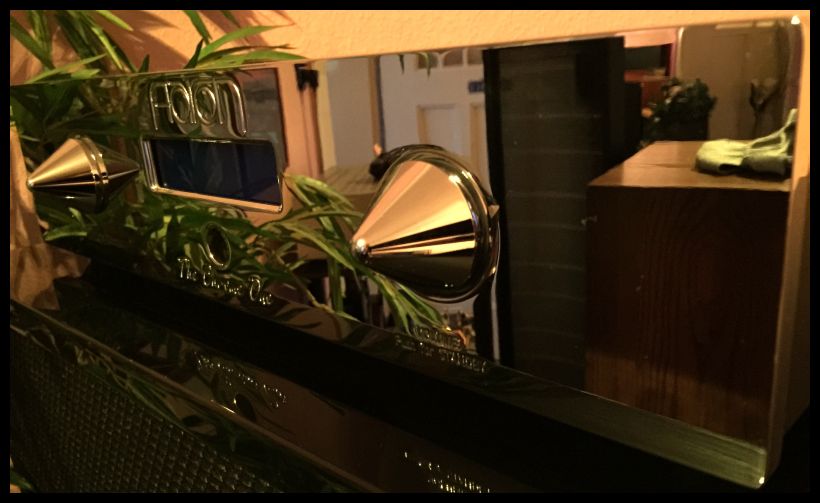 der neue Aaron HighEnd Vollverstärker " The Chrome One "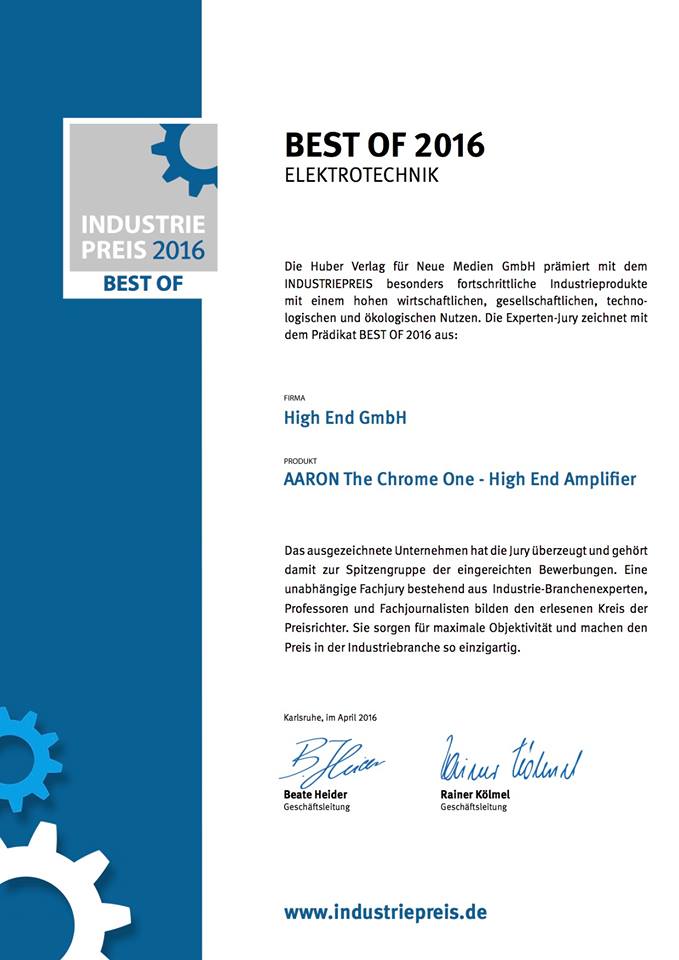 Best of 2016 - Aaron The Chrome One HighEnd Amplifier
Industriepreis Elektrotechnik High End Amplifier
Vielen Dank !

€ 4790 , -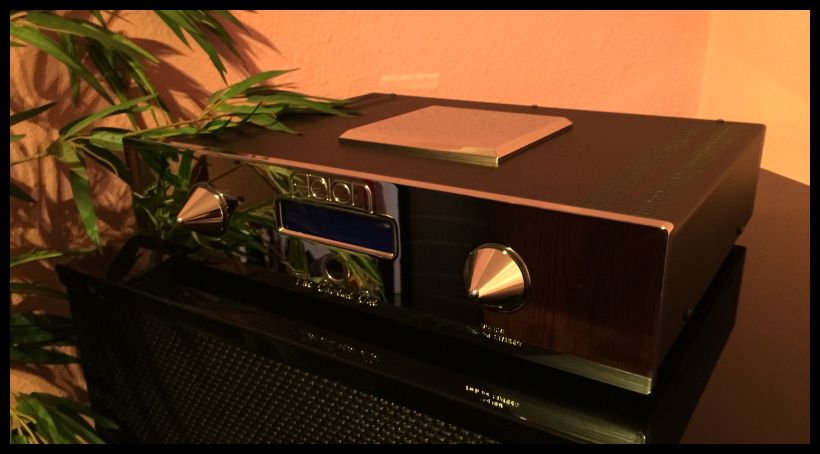 ... absolute high - gloss mirror chrome plate at front & top

.... several changes & upgrades at the pre-amp section and other devices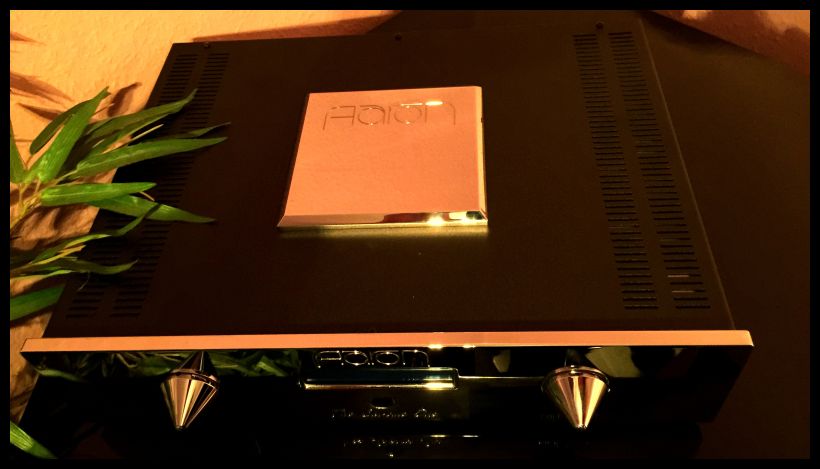 ..... get aaronized now
..... und hier bereits der allerneueste Bericht aus Great Britain von Dominic Marsh / HifiPig , more see here :
http://hifipig.com/aaron-the-chrome-one-integrated-amplifier-3/
______________________________________________________________
Some of the world´s finest amps .
Get Aaron-ized now !
Möchten Sie auch Aaron-isiert werden ?
Just call 05068 / 3031 / phone .
Der Verkauf und die Wartung/Service/Inspection eines Aaron/Sovereign-HighEnd-Verstärkers ist ausschließlich dem offiziellen Aaron/Sovereign Fachhändler vorbehalten . Er garantiert ihnen die Originalität/Echtheit und exakte Funktion jedes einzelnen Details Ihres Aaron/Sovereign-Verstärkers sowie selbstverständlich deren dauerhafte Zuverlässigkeit und hilft Ihnen dabei , eine Auswahl zu treffen , die Ihnen ein Leben lang Freude bereitet . Info 05068 / 3031 .
_________________________________________________
" It sounds like a tube - but it is no tube "
__________________________________
.... doch zuerst etwas neueste Lektüre aus Great Britain von der HIFI+ :
Ooohhh Sirs, what a pleasure. Mehrkanal?! Ja, aber wenn, dann bitte nur
mit dem AARON No.22 Cineast High End Mehrkanal-Vorverstärker.
Stereo, Bi-Amping, Tri-Amping, 6-Kanal – wie hätten wir es denn gerne
heute? Die Londoner Redaktion des internationalen Magazins HI-FI+ war
mehr als angetan von den Einsatzmöglichkeiten und der überragenden
klanglichen Qualität des No.22 Cineast Vorverstärkers. Ein
Universalgenie! Der Testbericht, der zusammen mit unserer No.3
Millennium Stereo-Endstufe entstand, ist hier nachzulesen:

....frisch aus der HIFI+Com der Bericht über die Aaron No.22 HighEnd-Vorstufe und die Aaron No.3 Millennium HighEnd-Endstufe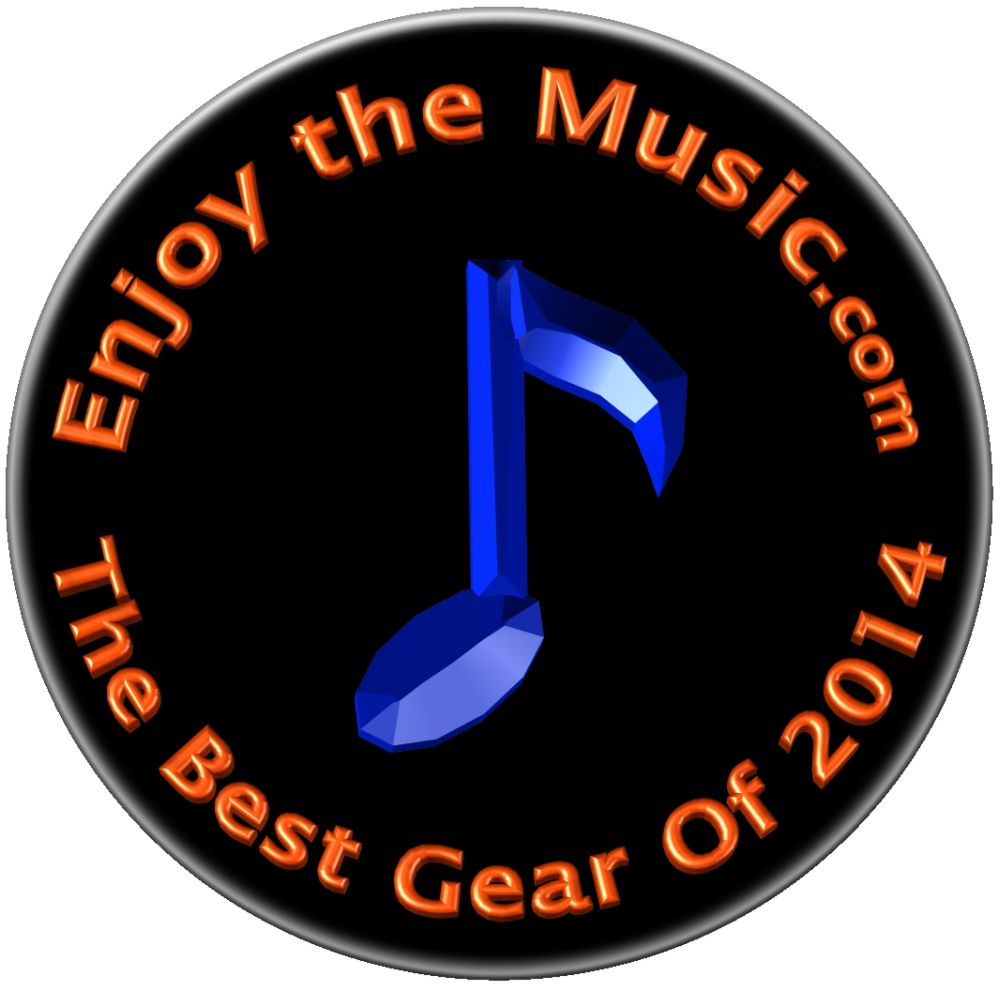 Auszeichnung für Aaron HighEnd Verstärker von Enjoy The Music . Com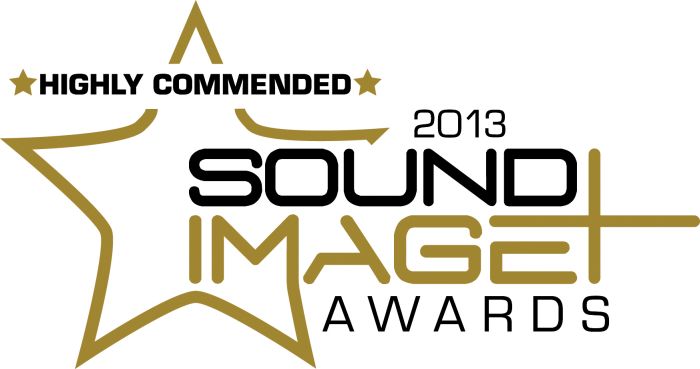 Aaron 20th Anniversary !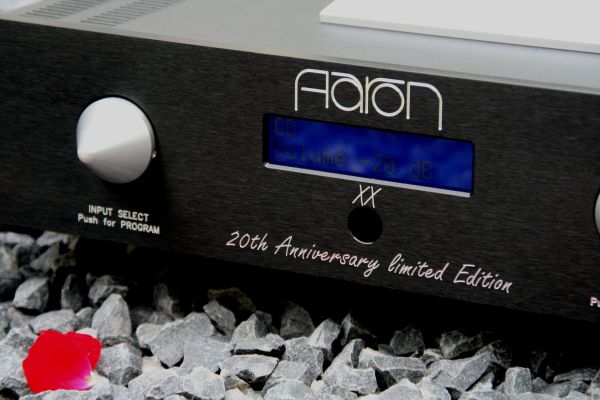 AARON 20th Anniversary limited Edition !
Enjoy the music at our Demo !
Bei uns in der Vorführung - der AARON XX (Double X) .

Weitere Informationen gerne via Telefon 05068-3031 .
Fresh from "Down Under" - Australia , some words ´bout the famous Aaron XX Anniversary :
" I was deeply impressed by the Aaron XX`s sound quality , performance and also build quality ....
Greg Borrowman "
" A powerful amplifier that is more than happy to drive very low impedance loads ....
Steve Holding "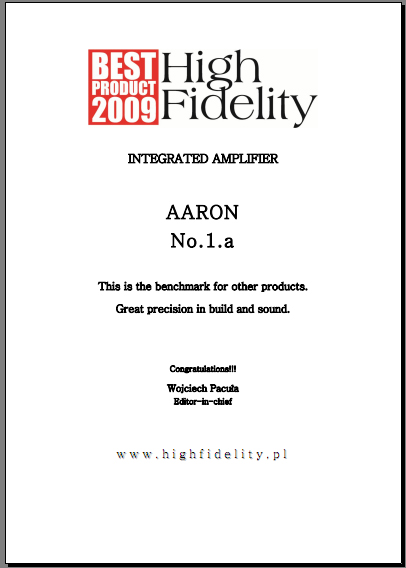 " The benchmark for other products "
Wir ermöglichen ihnen durch unsere Null-Prozent Aaron Hersteller-Finanzierung bei uns eine für Sie persönlich massgeschneiderte Finanzierung .
Lassen Sie sich dahingehend einfach ein Angebot von uns machen .
05068-3031-Telefon .
So werden Träume schneller wahr .
Und , wir demonstrieren gerne direkt bei ihnen zu Hause die Überlegenheit der Sovereign Signature Series und der Aaron Verstärker Kombinationen .
High End muss klingen - bei ihnen in ihren Räumen .
Diese Consulting-Leistung ist für Sie völlig unverbindlich !
Rufen Sie uns an für einen Termin in ihren Räumen ( Consulting-in-home-demo ) .
Tests (12) - Testzitate / "Product of the Year" Urkunde
siehe weiter unten / please scroll down .
Brandneu : Das neue AARON PHONO MODULE !
Fotos weiter unten / scroll down .
Modernste Fertigungstechnologien .
Liebevolle Handarbeit .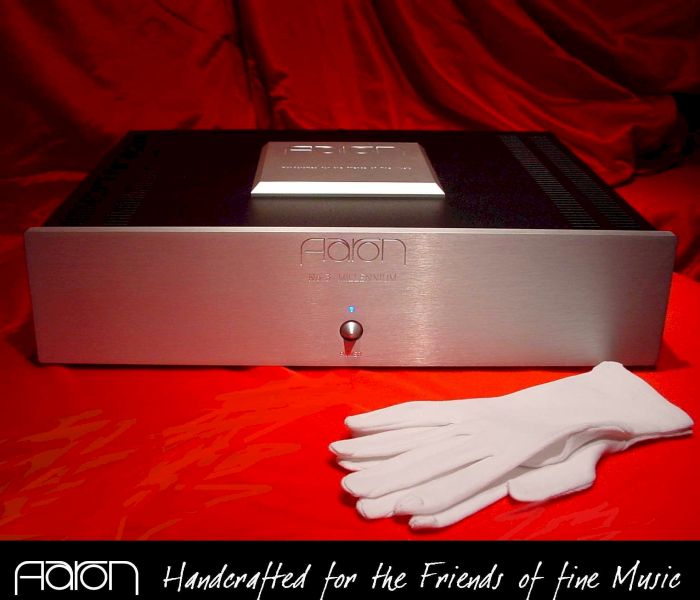 White gloves included .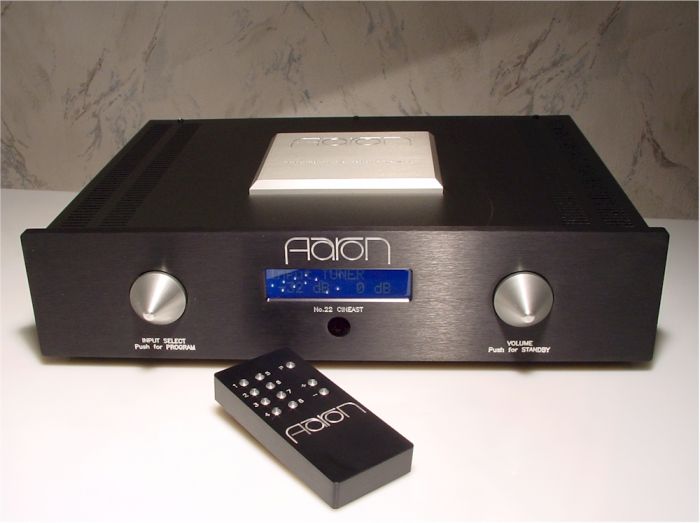 AARON No.22 Cineast .
Die High End Centrale .
Präzise auf das db .
Und enorm variabel .
AARON No.1a .

Musical Authority . The amplifier .
Hi-level Computer & human ear designed .
2x95w 8ohm 2x160w 4ohm 2x250w 2ohm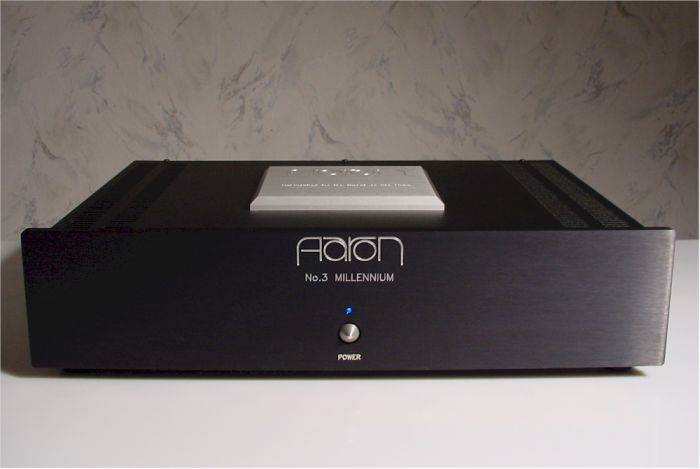 AARON No.3 Millennium . Die Endstufe .
Precision controlled Power .
2x100w 8ohm 2x180w 4ohm 2x320w 2ohm
Stabil an 1 ohm mit 2x550 watts .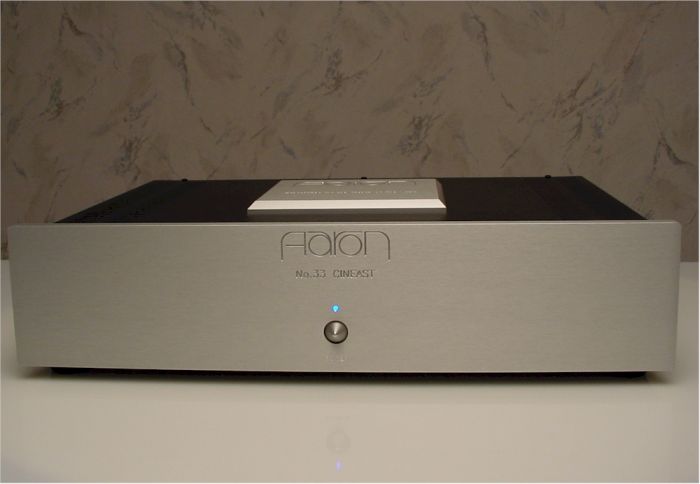 AARON No.33 Cineast .
Wenn Sie noch 3 Kanäle mehr benötigen .
Für ein High End Surround Erlebnis .
Oder Tri-amping ( 2 x AARON No.33 ) .
Wir sind flexibel . Für Sie .
Leistung : 3 x wie oben . ( 3x550w 1ohm )
AARON No.22 Cineast Design Audiorossa .
Erhältlich gegen add. cost .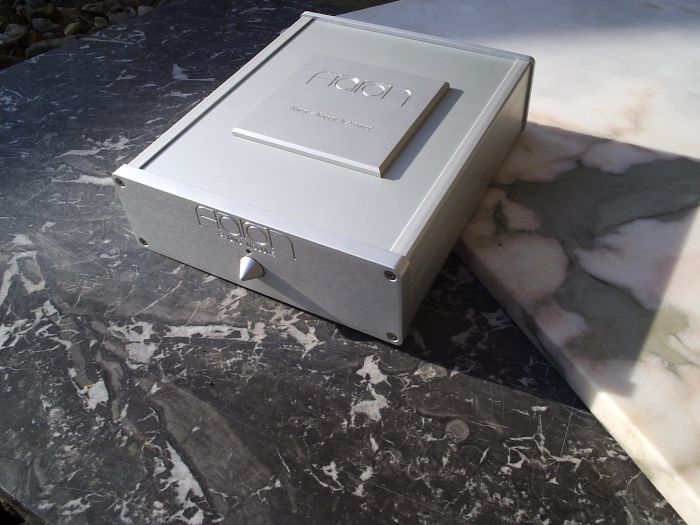 Das brandneue AARON Phonomodule .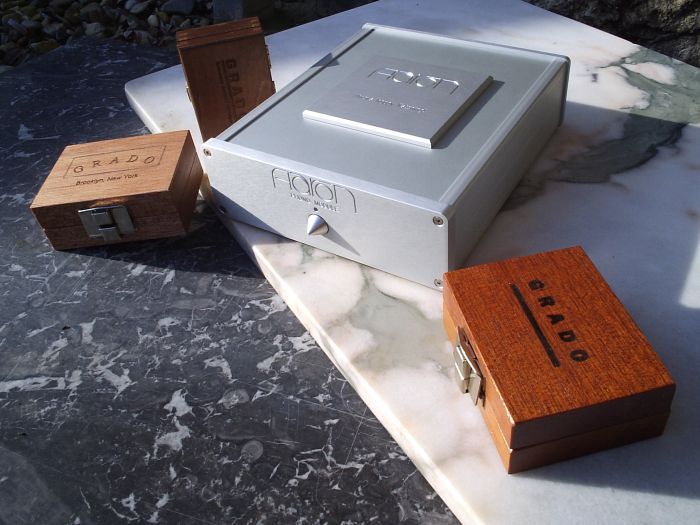 Im typischen Aaron-Style .
Perfekte Harmonie .
Zum Beispiel mit Grado .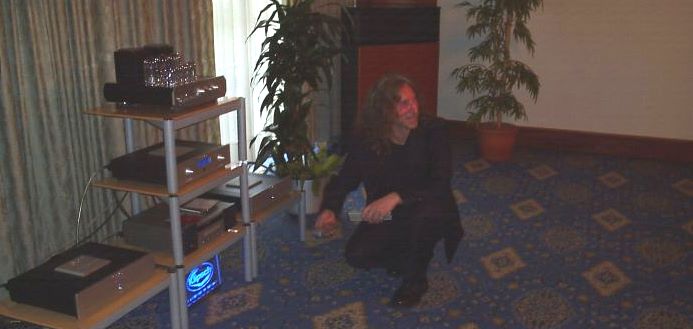 Einsatz am Klipschorn Anniversary :
AARON Cineast & 2 x AARON Millennium .
Pure Bi-amping . Pure Control .
Pure Musicality at all .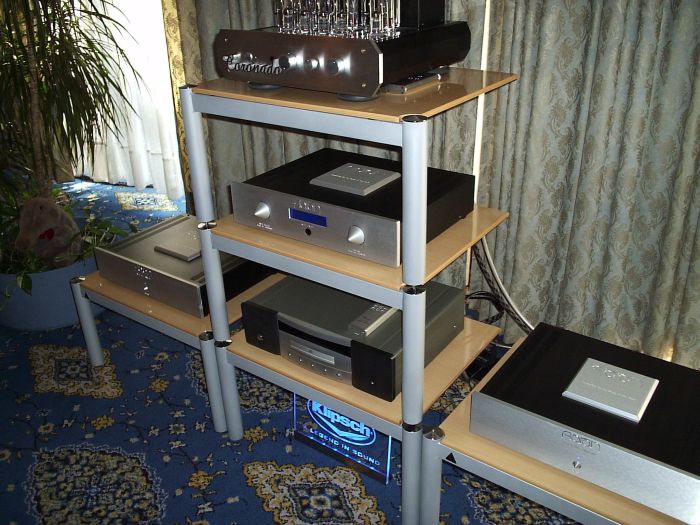 Nicht nur für Klipsch Lautsprecher .
AARON Verstärker .
Innere & äussere Werte .
Zeitlos . Absolut .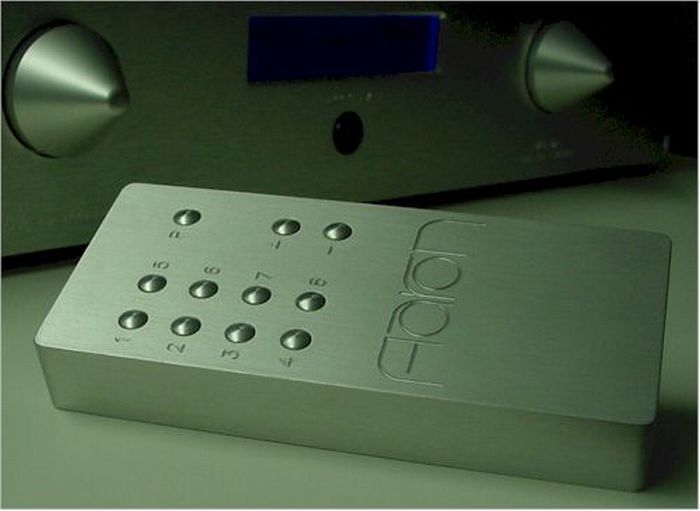 Musikalität unlimited .
Homogenität pur .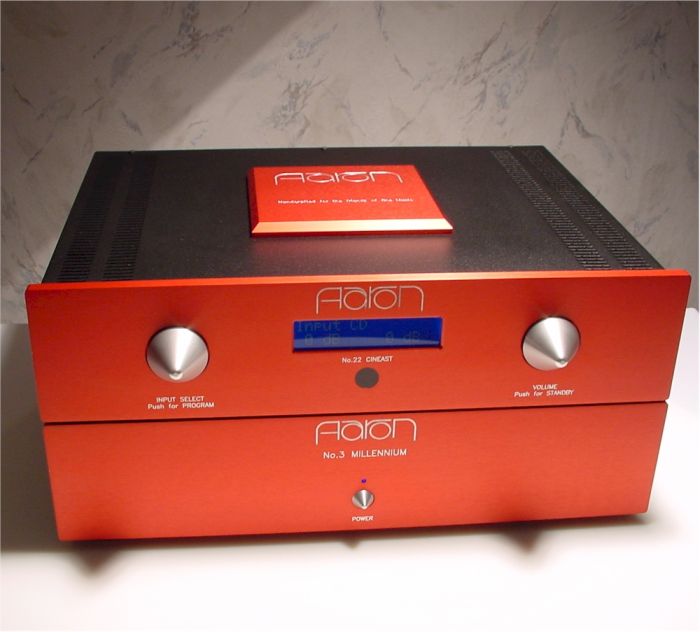 AARON .
Colour : Audiorossa . Limited Edition .
Wie Sie es wünschen . No limits .
Do Your decision .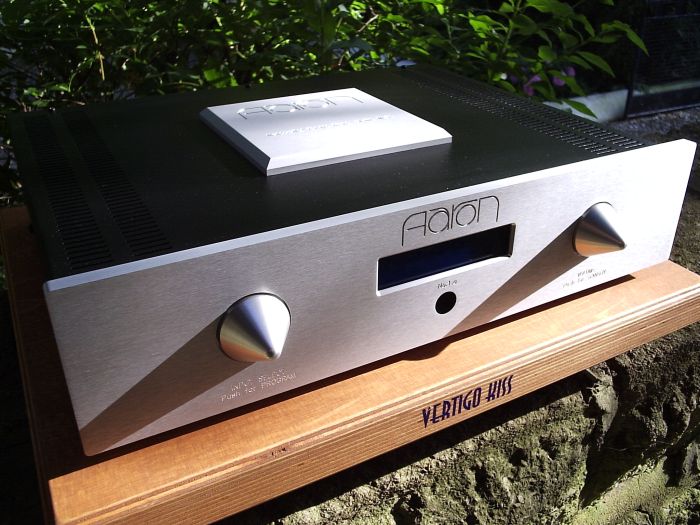 AARON No.1a .
Colour : Aaron Silver .
Leistung : mehr als genug und stabil .
2 x 250 w @ 2 ohms .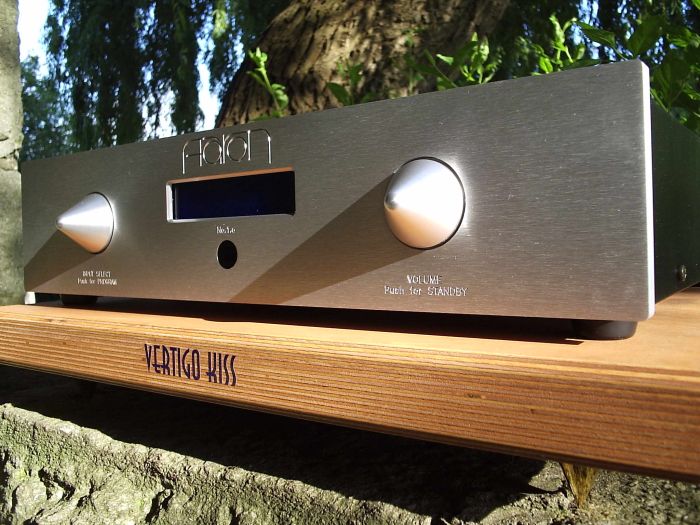 AARON No.1a .
placed on VertigoKiss plate .
Eine perfecte Verbindung :
Rechneroptimiertes High End Metall
und Naturhölzer .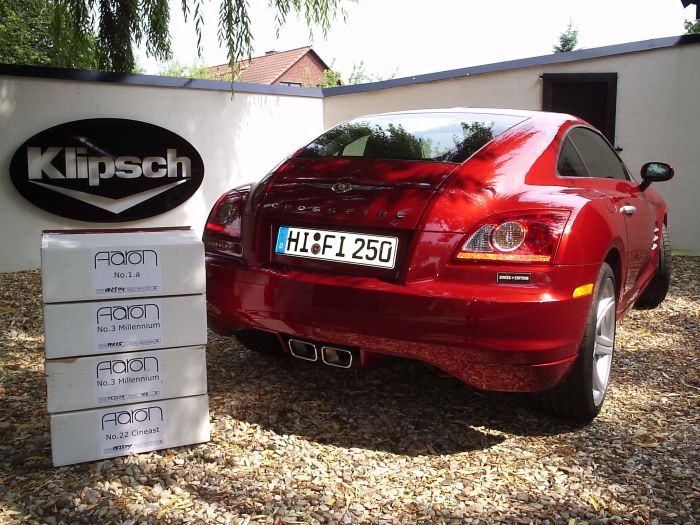 Eine kleine Versammlung feinster Aaron Electronic ,
kurz vor der Express-Auslieferung .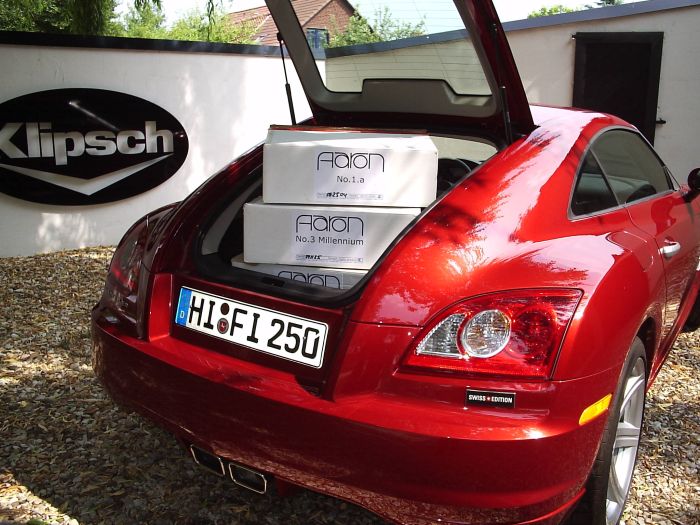 Immer schnellst lieferfähig für ihren hohen Anspruch -
an absolute Musikalität .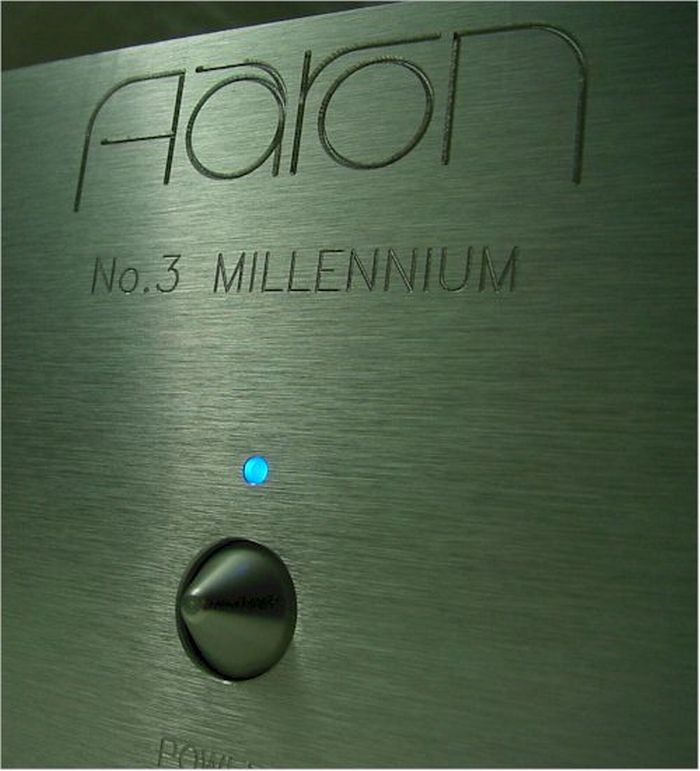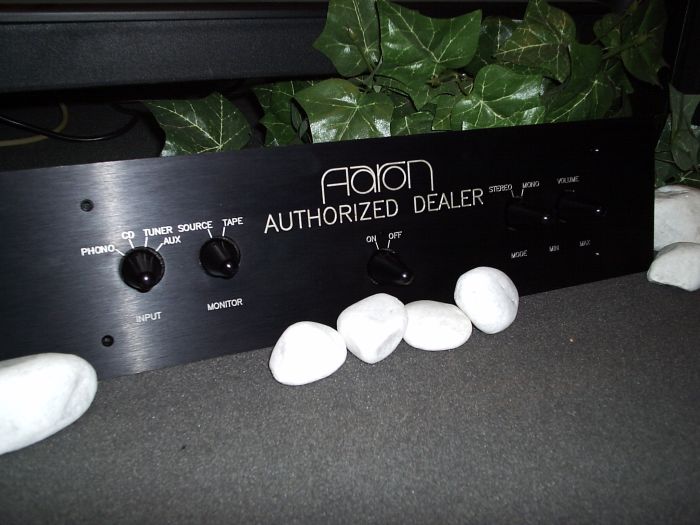 Und selbstverständlich sind wir offiziell authorisierter zertifizierter AARON & Sovereign H.E.A.R. Fachhaendler .
And , for sure , we´re official authorized certificated AARON & Sovereign H.E.A.R. Dealer .
Aaron Amplifiers are sold to serious musiclovers in :
Europe , Asia , North & South America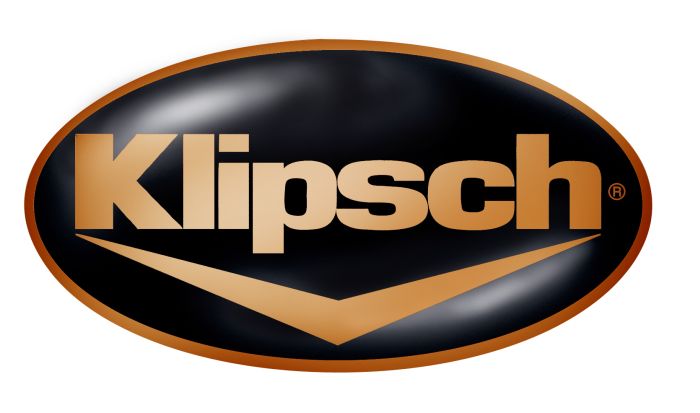 Following our lifelong experiences we can say , KLIPSCH Loudspeakers prefer AARON Amplifers .
Überzeugen Sie sich gerne davon .
Bei uns .
05068 - 3031 - Telefon
0049 - 5068 - 3031 - intl.phone
werner@klipsch-direct.de
In den nachfolgenden Positionen dürfen Sie teilhaben an all der weltweiten Erfolgsbilanz der Presse in Bezug auf Aaron Verstärker ( Directlinks und Auszüge , 12 ) :
Und wieder ein neuer 2012-Testbericht über den Aaron XX Anniversary HighEnd Vollverstärker in der Hifi+ Presse aus UK . Have fun reading that amazing story !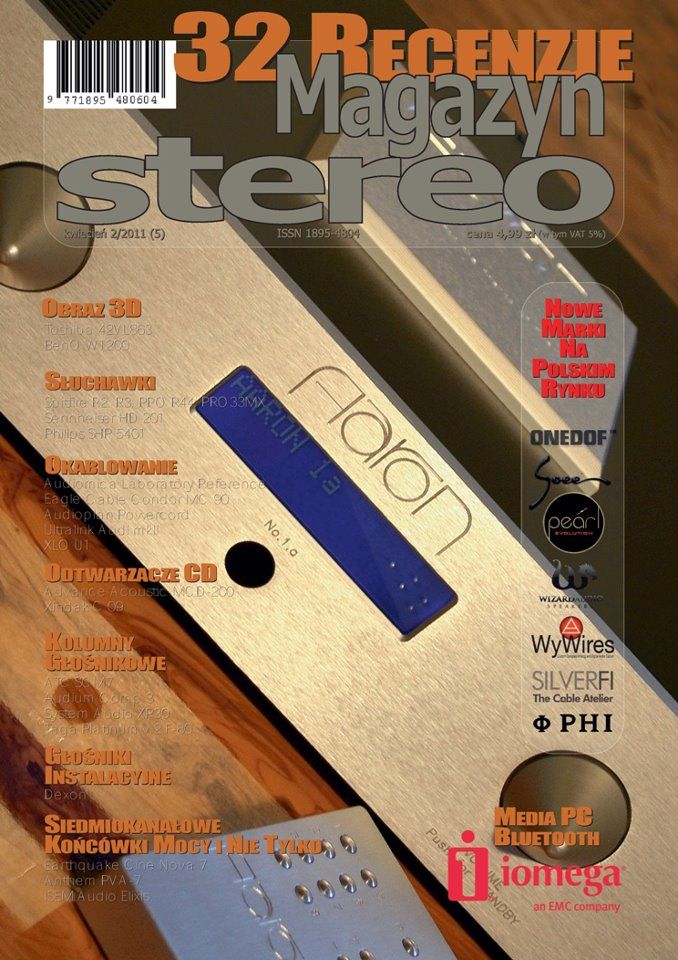 Ein schönes Titelbild - und ein schöner Bericht wird kommen .........

Und wieder ein überragendes Statement aus den USA von Todd Withesel von der Audio-Video-Revolution über den HighEnd Vollverstärker Aaron No.1a aus Januar 2011 . Viel Spass bei der Lectüre .
Hier ein kurzer prägnanter Auszug von Todd´s Beschreibung des Aaron No.1a :
" Everyone has their own personal sound nirvana, and the No.1.a was it for me.
There was nothing cold or clinical about the No.1.a; rather, its sound has a warmth that's ear-friendly without mellowing the music or turning it mushy. I would describe it as slightly "tubey" but in the best sense of it and more like a hybrid (tube/transistor) amp than straight up solid state.
The Aaron not only captured the fiery beauty and sizzle of the performances, but distilled each musician's part into a focused sonic image within the overall bloom of the tune proper. Dynamics, tone and tempo shimmered in a gorgeous blooming fury, without brittleness or blending into a colorless cacophony.
Warmth, power, detail and strong across-the-board performance – you get it all with the Aaron No.1.a. "
World Premiere ! Aaron No. 3 Millennium Power Amplifier . A sensational surprise !
Review By Anthony Nicosia - Der aktuelle Test (7) von enjoy the music.com über die Aaron No.3 Millennium HighEnd Endstufe
" Magnepan MGIIIA Loudspeakers and the No. 3 Millennium Rock My Listening Room .
What shocked me most however was that the Millennium with its 180-Watts into 4ohms, when paired with the Magnepans, really rocked my listening room! The music that it produced in conjunction with the Magnepans was incredible.
This is one of those amplifiers that you buy and hold onto for a very long time while you just sit back and "Enjoy the Music". "

Here are some set of projections from Fidelity Norway about Aaron XX:
"Build quality seems to be first class
... This is definitely a product that is built for the true music lovers
... Aaron delivers music with both the power and joy of playing,
transients are fired without hesitation.
The sound is characterized by an impressive smoothness, calmness and order, even when the music is at it most complex".

Der Testbericht aus Australien über den Aaron 20thAnniversary XX / DoubleX mit einer fünf Sterne Bestwert-Empfehlung von John Darko . www.digitalaudioreview.net.au (6)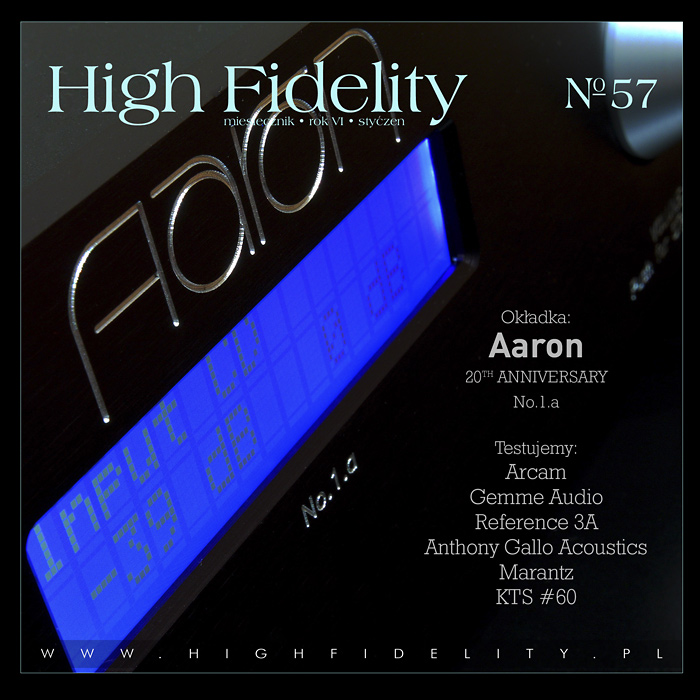 Ein überragender Testbericht ( mit freundlicher Genehmigung der HighFidelity-Polen ) des AARON No.1 a High End Vollverstärkers .
(5) Hier sehen Sie den AARON NO.1a Testbericht aus Februar 2009

Berichterstattung inclusive Productionsfotos aus 6moons.com - USA über den Aaron 20th Anniversary HighEnd Vollverstärker ( Aaron DoubleX ) aus 2010 :
6moons.com - Aaron 20th Anniversary HighEnd Vollverstärker (4)
Der Bericht von Joachim Pfeiffer über den Aaron No.1 a HighEnd Vollverstärker aus der neuen Website gelili.de
(3)Testbericht Aaron No.1 a HighEnd Vollverstärker aus 02.2010
(8)Aaron No.22 HighEnd Vorverstaerker + Aaron No.3 Millennium HighEnd Endverstaerker im Bericht mit Sonics-Allegria in www.gelili.de aus 10-2010

Testzitate aus enjoythemusic.com / U.S.A. aus October/November 2008 .
Testbericht : " Superior Audio Equipment "
AARON No.1 a Integrated Amplifier
Einige Facts aus dem Review :
" Aaron & Sovereign , an ultra-high-end Audio manufacturer -
Aaron as a high value company -
packaging design truly amazing -
drawing very little power on standby -
a big point for going green -
outstanding focus of the music -
are clear and easily heard , seem closer as with even highly tube gear -
where I had trouble with my reference rig , with the Aaron I had no problem -
outstanding transparency -
Aaron delivers connection with the music -
ultra transparency -
the Aaron will let You hear the difference between the several pianos -
ditto for electric guitars and megabuck violins -
the excellent dynamics of the Aaron -
lightning-like attack -
the Aaron delivered power -
with the Aaron , these deepest notes were clearer -
I was impressed -
the performance of the Aaron simply stands tall -
the Aaron should be able to drive much more difficult loudspeakers -
your choice of loudspeakers is fairly wide open with the Aaron -
it rocks , it swings -
it engages emotionally -
the toe taps and the soul is moved -
my love of live recordings was greatly rewarded -
it´s just You and the performance -
music springs to life in three-dimensional glory with the Aaron -
that less is more -
runs DC-coupled from input to output -
no circuits that degrade the sound -
the rotational functions are precise -
a component with the highest degree of precision -
that Aaron play in the highest league -
to get into the high-end game at this price level is remarkable -
you know you´re in the very high-end -
extraordinary quality of music -
capable of outstanding music reproduction -
emotionally engaging -
for the friends of fine music the No.1 a could easily become your final amplifier "
( Zitate Ende ) .
enjoythemusic.com/superioraudio-Testbericht AARON No.1a (2)
Und hier einmal ein Auszug aus der Stereo , der zeigt , dass sich ein Aaron Verstärker bereits vor 20 Jahren extrem erfolgreich behauptet hat - gerade auch an extrem impedanzkritischen Lautsprechern wie Infinity Kappa , Bändchen , Elektostaten etc . An solchen Lautsprechern sind damals massenweise diverse Verstärker "abgeraucht" . Die Aaron´s spielten freudig weiter mit ihrer Stabilität und wachsenden Musikalität .
Zitat Anfang :
Aus der Zeitschrift STEREO 07/1991 (1)
... Ein handfestes Argument für den Aaron ist seine Universalität:

Impedanzkritische Boxen, Stromfresser oder Elektrostaten können den
Vollverstärker nicht aus der Ruhe bringen.
Darüber hinaus vermag er vor
allem durch seine Ausgewogenheit und seine Dynamik zu begeistern,

massive Orchestereinsätze und boxenmordende Bässe lassen ihn
sprichwörtlich kalt;
Bläser kommen nicht schneidend scharf, kritische
Sopranstimmen verdaut er klaglos, und feinen Triangelschlägen verleiht
er Glanz und Plastizität...
Zitat Ende .
Now it´s up to You . Do Your decision .
Nun sind Sie gefragt . Ihre Entscheidung dürfte leicht fallen .
Call 0049-5068-3031 or national 05068-3031 .
Werner Enges Atmosphere - Klipsch
Saaledamm 5
D - 31008 Elze
Official authorized Klipsch Superstore since 1975
www.klipsch-direct.de - www.wernerenge.com
05068 - 3031 - Telefon
0151 - 54 61 69 62 - mobile
0049 - 5068 - 3031 - intl.phone
UST.ID. DE 191 447 839
werner@klipsch-direct.com
Official authorized Sovereign Signature Series H.E.A.R. Dealer and Aaron H.E.A.R. Dealer .